Hello
I thought I would give you an 'at a glance' guide to the classes for the start of the Spring term, hopefully I have a class suitable for you, but if not get in touch anyway, I'll put you in touch with another local teacher who may have a more suitably timed class in the area for you.
Monday, 7:30-8.45pm classes are running now,  – St Elisabeths Church, North Reddish, New price of £5 drop in every week finishing 7th April for Easter resuming 28th April
Wednesday, 5:30 – 7pm, Manchester City Centre, St James's Building, every week just £5  finishing on 9th April for Easter returning 30th April.
Thursday, 7:30 – 9pm, classes running now, St Clements Church, Chorlton, £6 or £35 for 7 weeks of classes from 27th Feb- 10th April. Resuming after Easter on 1st May.
Friday, 9.30-10.45am Bramhall Village Club, yoga for everyone, £7 drop in or £35 for 6 classes starting 7th March.  Finishing 11th April for Easter and resuming 2nd April.
Friday, 11am -12noon Bramhall Village Club, slower paced yoga for anyone wanting to practice more slowly and practising more restorative yoga, maybe after illness or a period of low energy.  £7 drop in or £35 for 6 classes starting 7th March.  Finishing 11th April for Easter and resuming 2nd May.
Full details of location and pricing are listed on the classes page of my website, short cut to it here.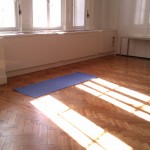 see you on the mat soon!
If you sit at a desk or computer all day you may be aware of the aches and pains and rounded shoulders or stiff back that can occur.
Why not club together, or even persuade your boss or HR department to pay for a yoga class in your workplace.  You don't need much space, maybe you could move some furniture in a meeting room and let me come to you.  I'll teach you some great postures, asanas, to help with your posture at work and in day to day life.  Holding a class at work is the perfect solution to fitting in your excercise with your daily life. 
Remember that Iyengar yoga can help protect you from future injury and excercise in the day can boost productivity, you can read a study here.