Hello all,you can see the full class list by clicking here, however here's a quick guide….
Manchester University class for all on Mondays starts 30th Jan 17, it's a 8 week course that must be booked on line or on the phone directly with the Uni Sports dept.
Monday yoga for everyone, North Reddish in the stunning St Elisabeths Church, we practise in the church itself it is a listed building and it provides a very special class for us using church furniture as props! Starts Monday 9th Jan 17, 7.30 – 8.45pm, £5 per class.
Wednesdays Intermediate yoga in St James's Building, Manchester City Centre, must have practised Iyengar yoga for 3 years or more, classes start Wednesday 11th Jan 17, 5.30 – 7pm.
Thursdays general yoga for all in the stunning Upper Hall at St Clements Church Chorlton, starts Thursday 12th Jan 17, 7.30 – 9pm £7 drop in.
Fridays beginners yoga with Manchester University starts 3rd Feb for a 8 week course which must be booked with the Sports dept at Manchester University either on line or on the phone.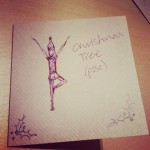 If you sit at a desk or computer all day you may be aware of the aches and pains and rounded shoulders or stiff back that can occur.
Why not club together, or even persuade your boss or HR department to pay for a yoga class in your workplace.  You don't need much space, maybe you could move some furniture in a meeting room and let me come to you.  I'll teach you some great postures, asanas, to help with your posture at work and in day to day life.  Holding a class at work is the perfect solution to fitting in your excercise with your daily life. 
Remember that Iyengar yoga can help protect you from future injury and excercise in the day can boost productivity, you can read a study here.